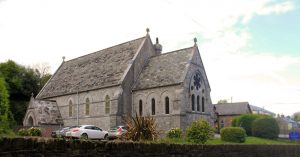 Holy Trinity Church
Holy Trinity Church, Templebreedy was designed by the world renowned ecclesiastical architect William Burges who also designed the 'mother church' of the Diocese of Cork, Saint Fin Barre's Cathedral.  It is of immense architectural significance and we are the proud custodians of this building.
Crosshaven as a small village is very fortunate as far as its church architecture is concerned.  St. Brigid's Church, the local Roman Catholic Church was built by Edward Welby Pugin.
As our Parish Church in Crosshaven is dedicated to the Holy Trinity so in the theological richness of this dedication we hope that all who worship with us are able to explore, express and live out their faith in God the Holy Trinity in an open and inclusive way in our group of parishes.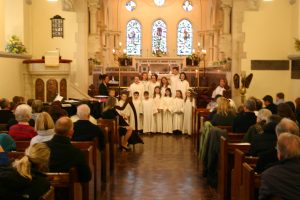 Find us on the map: click here :
History
Extract from "The Cork Constitution" November 1st 1866.
The foundation stone of Holy Trinity Church, Crosshaven, was laid on 31st October, 1866 by the Right Rev'd John Gregg, D.D., Bishop of Cork, Cloyne and Ross.
For some years past Crosshaven had been growing in popularity as a holiday resort and St. Matthew's Church – "the ruin on the hill" had been utterly incapable of accommodating all who came to worship.  "In addition", as the Cork Constitution of November 1st 1866 stated, "it possessed this disadvantage, that from its exposed position, subject as it is to the fury of every winter storm that blows upon the southern coast, its roof became uncomfortably leaky, to such an extent indeed that often on a windy and wet day the congregation had to patiently endure the inconvenience of several pluvial streams coming down either upon them or  about them".
Hence it was determined to erect a new Church, which was dedicated to the honour of the Eternal Trinity, Father, Son and Holy Spirit.  Its architect was Mr. W. Burges (London), and cost was £1,700 of which sum £500 was locally subscribed and £1,200 given by the Ecclesiastical Commissioners of the time.
The site for the new church was given by Mr. Thomas Hayes of Crosshaven House, "who gave a carte blanche to the chairman the Rev'd M. Archall, to go over all his property and select whatever site he chose for the building, and the church would be erected on one of the best fields on his estate".
"The scroll, with a copy of the constitution and a few current coins of the realm, was placed in a jar, and deposited in the foundation stone".  Thus began two years of hard work until the church was completed.