Summer Holiday Club
Champions club author: John Hardwick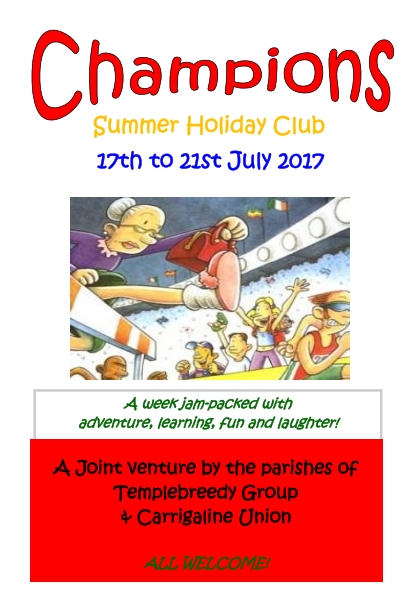 Holiday Club Details
Who runs the Holiday Club?
The Holiday Club is being run by two of your local Church of Ireland Parishes; Carrigaline Union and Templebreedy Group,  and complies with Safeguarding Trust, the Church of Ireland's code of practice for working with children.
What happens at the club?
Our theme this year is 'Champions', St Paul says that the Christian life is like an athlete running a race, and that Jesus was the Ultimate Champion. The holiday club programme looks at the life of Jesus and how he 'ran the race' and encourages us to do likewise. To run the race before us and like athletes we need to have Direction, Dedication, Determination, to avoid Distraction and in the end there will be Decoration, the prize will be ours. A fabulous week to look forward to with puppets, action songs, games and crafts!
Where is it being held?
Canon McCrea Hall, St Mary's N.S. Carrigaline, Co. Cork
When is it on?
17th to 21st July from 10am to 1pm each day.
How much does it cost?
The cost for the five mornings is €30 per child, with a maximum of €70 per family.
What age is it for?
The club is for all who were in  Primary School in 2017  or who will begin Primary School this September 2017.
There will also be an evening for parents (Thurs 20th) to see what happens at the club.
How do I book a place?
Just complete the form (available from either Rectory) and return it as soon as possible  with the fee to either of the Rectors listed below:
The Revd Elaine Murray, The Rectory, Carrigaline  
 The Revd Isobel Jackson, The Rectory, Crosshaven 
021-4831236